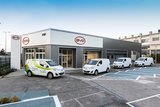 Its purely electric commercial vehicles BYD they also came to Hellasto meet the needs and of the most demanding professionalwith large economy in movement costs and zero emissions. The first opportunity to learn more about them and also to drive the ETP3BYD's all-electric panel van, is introduced at the end of this week.
THE Petros Petropoulos SA and the PNT CARS PANTOPIKOSOfficial Importer and Authorized Dealer of BYD respectively, organize "Open Doors" event and invite anyone interested, the Friday 7 and Saturday 8 Octoberat the brand's new facilities, in Kifissia.
In full formation from 10.00 in the morning to 05.00 in the afternoon, will be found both the ETP3the 2.4-ton all-electric panel van with a payload of 780 kg and a load space of 3.5 sq.m., as well as the ETM6the also 100% electric, 7.5 ton truck, ideal vehicles for "green" urban transport and distribution.
Next to them will be the midi bus K7a 100% electric city bus 55 passengers8.7 meters long, ideal for public transport as it stands out with its flexibility and zero emissions.
At the event, a fleet of ETP3 will be available for test-drivewhile technical advisors will be present, in order to present the vehicles and to solve any related question. At the same time, they will explain in detail the procedure for subsidizing a business or of a professional with an amount € 8.000 per vehicle for the purchase of one ETP3through the program "Moving Electric 2".
The ETP3 driven by a highly energy-efficient AC electric motor, maximum power 100 kW (136 PS) and maximum torque 180 Nm. It provides the energy required for movement advanced lithium battery – iron phosphate (LiFePO4) of BLADE technology BYDcapacity 44,9 kWh. The vehicle's range is up to 275 km..
The ETM6 available in two versions, differing in wheelbase length, 3.36 m or 4.4 m. The all-electric truck is powered by an AC electric motor, energy efficiency over 95%. The maximum power is 150 kW (204 PS) while the maximum torque 550 Nm. It provides the energy required for movement lithium iron phosphate battery (LiFePO4), capacity 126 kWh. The range of the vehicle with a full load is 200 km..
THE PNT CARS PANTOPIKOS it is at 16th km of the Athens-Lamia National Road and Thebaidos (on the side road of E.O.), at Kifissia. Contact Phone 210 8075773.