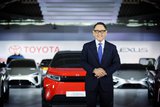 THE electromobility it is the next day of motoring, however the Toyota is not going to change its policy against electric vehicles.
While most car manufacturers accelerate the processes for their complete electrificationseveral in fact before the end of the current decade, the Japanese company still believes, according to Bloomberg, that the best option is to offer consumers a wide range of choiceswhich will include purely "thermal" cars, hybrids, hydrogen powered but also, clearly electrical.
"The transition to full electrification it will take more time than the media is showing us»pointed out the CEO of Toyota, Akio Toyoda, speaking to company representatives in Las Vegas. He clarified that the company will continue to offer "the widest possible" range of engines.
"This is our strategy and we insist on it»commented emphatically and used an eloquent example: "THE Toyota is a department store which provides all kinds of engines. It is not right for a store to tell the customer that 'this is the product you should buy'».
Toyota is committed to spend more than 28 billion euros for the production 30 electric vehicles by 2030. Although the amount is less than some competitors such as Fordwhich will spend more than 50 billion euros in electrics by 2026, Toyoda has its counterpart.
"Our investments may seem smaller than others, but when you look what Toyota has been doing for the past 20 yearsthe total amount may not necessarily be small"he pointed out, referring to the investments that have been made in the battery part.
Finally, he appeared troubled with the possibility of adapting the company to the requirements of the state of California to ban new cars with MEK by 2035, while increasing sales of EVs by 2030. "We have to look at the current price range, the availability of the infrastructure and at what rate it is going to be upgraded. Realistically speaking, seems rather difficult to achieve this goal".
Source: Bloomberg