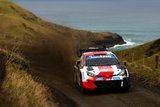 The rain that fell on the morning loop of the third day in Auckland brought ups and downs to the already fragile balances that had been formed by the end of the second day.
Elfyn Evans started the day leading the race, following Ott Tanak's penalty, but lost it when he made a mistake halfway through SS9, hitting the side of the road with both the front and rear of his GR Yaris Rally1, causing the radiator to puncture. At the end of the special, on the straight route, he stopped to close the refrigerator with insulating tape, and fill it with water from a trough near the road. If anything, the Welsh crew did not lack ingenuity.
At the same time, Kalle Rovanpera was in excellent condition and was able to win the same race. to move into the lead of the rally, with a short lead over Tanak. The Estonian, however, emphasized that "I don't have speed, as usual", when he spoke at the end of SS9.
Sebastien Ogier moved into the podium positions after Evans' crash, and looked to have the speed to keep up with the pace of the top two.
Fifth remains Thierry Neuville, who at the end of SS8 reported a "technical problem" with his i20 N Rally1, as he no longer had 3rd gear in his gearbox.
Gus Greensmith also made a mistake, stalling and breaking down his Ford Puma Rally1 in the middle of the final stretch of the loop, canceling it.
Thus, those who did not pass at normal speed will be given the same time by the marshals.
Detailed ranking at the end of SS10:
| | |
| --- | --- |
| Position | Guide |
| 1 | Kalle Rovanpera |
| 2 | There, Tanak |
| 3 | Sebastien Ogier |
| 4 | Elfyn Evans |
| 5 | Thierry Neuville |
| 6 | Oliver Solberg |
| 7 | Takamoto Katsuta |