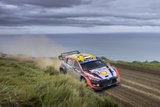 Ott Tanak completed the second day of Rally New Zealand being first with a difference of only 0.7 sec. by Elfyn Evans.
He will, however, find himself second, after the stewards decided to punish him with a five-second penalty, which will be added to the time he has done so far.
This will move Elfyn Evans to the top of the race, with 11 points. to remain.
The penalty came as a result of the violation of Article 3 of Memorandum 15 of the Regulations, which concerns the use of hybrid energy of the new Rally1 cars.
According to the marshals, Tanak ran Thursday's super special with more boost from the hybrid unit.
And despite the fact that this brought little competitive benefit to the Estonian, the regulation was violated and this brings about the above penalty.
A 5-second time penalty applied for Ott Tänak. His hybrid gave too much boost on the super special stage on Thursday. #RallyNZ#RallyNewZealand#WRC#WRClivepic.twitter.com/mtUna7wsK7

— Rallirinki / Teemu (@HartusvuoriWRC) September 30, 2022