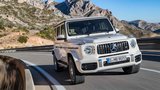 Let's face it. Most car lovers have at some point, even if just for fun, been tempted to choose one very expensive model inside the official dealer's config trying to "smoke" it with expensive options so we can see that its price can reach. One could liken it to the pleasure one gives video game.
That's what we did too. We took the beastly SUV from Mercedes-AMG, the G 63, and we tried to get to know her a little bit better through the official configurator of the importer in Greece, which you can find by clicking here.
The first "track" had his choice drivetrain, the "heart" of the vehicle that will transport us, when we take it in our hands. We're talking about one very important piece of the puzzle where there is no room for stinginess and so we choose the top choice, the V8 of 4.0 lt with 585 PS and 850 Nm of torque.
Power goes to all four wheels through one 9-speed automatic transmission allowing the vehicle to do 0-100 km/h in just 4,5 sec and the top speed reaches the 220 km/h.
Consumption in a mixed cycle corresponds to 16 lt/100 km while at the same time the pollutants released into the atmosphere are 363 g/km. This is our base and the "counter" has already been written 301.649€, amount on which we will "build" our vehicle.
In the next step we have the choice of body color. By continuously scrolling towards the most expensive paints we arrive at "opalite" white mango exclusive that costs 8.202,60€.
Then we choose 22 inch light alloy wheelsforged, with 5 spokes costing 5.077,80€ and pressing "continue" various additions appear in the exterior design. We continue to be open-handed and choose the most expensive thing we find, that is painted roof in "night black" magno for €1,900.92.
From there we add one heated windshield for cold winter nights (585,90€) and one hitch do we have to pull the boat to go fishing with the family (312,48 €).
His time is coming internal and at once we choose it Superior equipment package with a cost 9.068,43€ where among other things it covers the surfaces with Nappa leather and adds floor mats with its logo to the vehicle AMG.
Then we move on to the interior decoration and the selection AMG Carbon of €4,557 it "clicks" us, raising the price even more of the vehicle being configured.
We don't skimp either steering wheel and we proceed with it AMG Performance from carbon fibers of 1.067,64€ while then appear the additional elements of the interior where we continue again with the most expensive thing there is. Among other things, we choose "cherry wood" flooring for the luggage compartment (3.124,80€), two tone control panel (781,20€), designo red seat belts (468,72€) and ashtray for the friend who won't stop smoking (58,59€).
A little later they appear additional elements of entertainment where we continue at the same pace by choosing the rear passenger entertainment package (2.604 €) and TV-Tuner for digital TV reception (1.302€).
We reach the end and go see what "damage" we did after that great ride. The shaper stopped at 367.965,88€ where the price includes the Special Classification Fee of 120.770,61€ but also their VAT 47.844,24€. Somewhere there we close it configuration and we slowly come back to reality…
See more photos