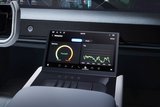 THE Harmanits subsidiary Samsungspecializing in development of technological systems with application in the field of the automotive industry, presented the its new product bearing the name Ready Care.
The system was developed with the aim of making safer handling of a car focusing on the mental state of the driver. This is accomplished with a grid of sensors which are programmed so that to "read" the person's reactions located behind the steering wheel.
The core functions of the Ready Care system concern the distraction from the road, to the choice the less stressful route but also in the personalized interventions they are based on to the driver and his experience. More specifically:
Eyes and attention on the road: Ready Care, according to Harman, is the only system that can records data from the driver's eyes, while at the same time reading her mental state in which it is located. A infrared camera tracks the face, both in low and high light levels, while through processing of expressionsof the look and the movements they make eyelashes, deciphers when the driver is distracted from the road.
Stress-free journeys: The system is combined with all navigation engines and manages through processing to "read" routes that may cause stress to the driver, urging him to follow alternative options. This way the driver is preserved quiescent, avoiding her traffic jam, alleviating the anxiety that might overwhelm him.
Personalized interventions: The third pillar on which rests the Ready Care it concerns her comfort that the driver must feel while operating the vehicle. Thus, interfering with other vehicle systems such as content or sound system volumeeven the position the seats are adjustedcreates the right conditions, allowing the driver to focus on the steering wheel.
The Ready Care is yet another technological system that can add points to safety level of new cars and to adapt upon philosophy of each vehicle. Now, it remains to be seen which manufacturers they will choose it in the coming years to equip their proposals.