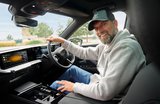 His relationship Jurgen Klopp with Opel has held for a decade, with the two sides having struck a deal for the coach to promote them models of the brand. In this context a few days ago received at his office in England his new acquisition. It's about the new plug-in hybdrid Opel Astrain black color, with the steering wheel is on the right side to be able to move to the "Island".
With this choice o Steal crosses the "threshold" of electrification having in his hands a vehicle with maximum combined power 180 PS and 360 Nm of torque, which in a mixed cycle consumes 1,1 lt/100 km and releases 26-24 gr/km CO2 in the atmosphere.
The coach of the "reds" as soon as he got his hands on the car showed that he was impressed with the design as well as the technological systems with which it is equipped, among which is the "umbrella" Intelli-Drivethe head-up display but also the impressive panel with the dashboard screens.
From there on the car is equipped with AGR sport seats, invested with black Nappa leather which are heated and have massage functionto rest the coach after the intensity of the matches.
THE Jurgen Klopp has appeared in more than 20 Opel commercialsoften participates in promotional eventswhile he has also spoken to the company's employees at its headquarters Ruesselsheim.
Watch the video…