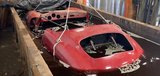 O Taylor Malloy works for her 3S Chemicals and is recommended as an "expert" in its removal color and her rust from a car. His company receives vehicles in which their owners want to remove every trace of paint and dips them in a "bathtub» with chemicals.
Then one pressure machine it is plugged in and the paint comes off the car, just like the shell comes off boiled egg.
In the following video Malloy explains the process step-by-step and reveals several things along the way secrets of his work.
Among other things, he mentions that everything is easier when he has to work on one old car than in a new one, since the advanced technologies dyes make the color removal more difficult.
Watch the video…
Source: YouTube/Cars Insider