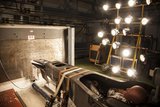 A very interesting one video which presents the criteria by which the crash tests in her cars Formula 1presented it WTF1 through his official channel at YouTube.
The video begins by stating that the pilot safety has evolved into the number one demand and that is why the most are implemented strict safety criteria that we have ever seen in the history of the sport. In fact, it is noted that a few years ago decades they didn't even exist crash tests and the drivers were playing their heads off heads or tails every time they went off track at speeds over 300 km/h.
Now, the teams are obliged to design the cars in such a way that they are as long as as quickly as possiblewhile at the same time they should meet all the security criteria for the driver. A process that is special difficult and it takes a lot of time research so that these two can "marry". different worlds.
Now, every car must pass successfully 7 different crash tests before entering the track, which you can see in detail at 4:59 which lasts the following video. These multiple tests are the main reason that now, in most conflicts we see o drivers they come out of cockpit safe and sound.
Watch the video…