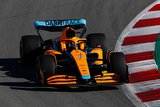 The first test in view of the new Formula 1 season on the track of Barcelona started with great impatience.
The good weather and the relative calm helped all the teams to work out their programs without any problems, with the exception of Haas and Alfa Romeo, which had technical problems. In the case of the American team, coolant leakage and damage to the floor significantly affected her day.
Lando Norris was the fastest of the day, as he broke the 1:19 barrier in the last half hour of the tests, with the C4 eraser. He had a small problem, however, as before he could even complete a lap, the MCL36 was "stuck" at the end of the pitlane, and had to be pushed back into the team garage. Fortunately for him, he managed to get back on the track to continue his program.
Charles Leclerc fell 2nd, with the performance he had achieved during the morning leg.
Ferrari teammate Carlos Sainz set the third fastest time to make it 2-3 for the Scuderia.
The times at this stage are of little importance, however, as what each team looks at is to make sure that their car is reliable and stable. The positive thing for the Italians is that in this field they did well, exceeding 100 laps with their two drivers.
The two Mercedes of George Russell and Lewis Hamilton followed in 4th and 5th places, respectively. The 7kg champion drove in the afternoon, and in fact he was able to write a very fast first sector, before cutting speed so as not to write the time until the final.
Red Bull also wrote several kilometers, with Max Verstappen staying behind the wheel throughout the day, significantly exceeding 100 laps, as well as Yuki Tsunoda with AlphaTauri. Especially in the case of the Dutchman, the goal was to record kilometers with the C1 and C2 eraser, the hardest in the Pirelli range.
Several kilometers, but slow times were also recorded by Williams, who divided her program into two parts, with Nicholas Latifi leading in the morning and Alex Albon continuing in the afternoon.
The second day continues tomorrow, starting at 10:00.
Detailed ranking in a while!