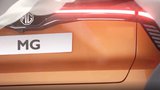 The emblematic British brand MG puts electrification in the foreground and prepares to present a range of vehicles who will put her in next day of the car and will spread it logo its throughout Europe.
An important helper in this effort is the Chinese state multinational SAIC Motor Corporation Limited which acquired the British brand and wants to regenerate it through new proposals.
One of them is expected to be presented towards the end 2022 and concerns one purely electric hatchback which will bear the name MG4 and -as one can easily conclude- its dimensions will place it a category above it MG3.
A first taste gave us through one teaser video published in YouTube duration 40 sec. which gives us access to a data of the new proposal such as wheelsthe mirrors but also the backs LED luminaireswhose design is quite reminiscent of the one we find in Kia EV6.
What is concluded is that with this model the MG wants to be placed next to proposals like Volkswagen ID.3 and Nissan Leaf, taking its share.
Watch the teaser video from MG4…