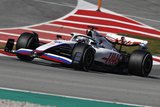 The Haas owner is watching with particular anxiety what is happening on Ukraine's border with Russia, as the future of his team will largely depend on the outcome of the negotiations.
The reason is clear. Haas has managed to survive financially for the last two years, thanks to the huge sponsorship of Uralkali. The company is owned by Dimitry Mazepin, father of Haas's Russian pilot, Nikita Mazepin.
Uralkali is the largest potassium producer in Russia, with exports to 76 countries, including the United States. It was this global business activity of the Mazepin family that was the reason for Dimitri Mazepin's collaboration with Gene Haas.
However, the sanctions announced by the major countries of the Western world against Russia for its stance on the issue with Ukraine, have as a consequence that these trade collaborations of Dimitry Mazepin with the countries outside Russia are "threatened".
A possible embargo on Russian products may "hit" Dimitry Mazepin's commercial activities to the point of even banning his companies from advertising in some countries.
Such a development would obviously be a huge problem for Haas, which relies almost exclusively on the Russian tycoon's money to survive in the harsh F1 world. We can not even imagine what will happen if this collaboration "crashes".
The Mazepin-Haas partnership, then, alone does not leave Formula 1 indifferent, just a few weeks before the start of the 2022 World Championship. with all sides potentially involved with F1.
An equally important issue, after all, is whether Russia will be able to host a Formula 1 race in 2022. The Sochi Grand Prix is ​​scheduled for the three days of September 23-25, but if the situation in the region is not normalized in time, it is considered from very difficult to impossible to run a race.
Sochi is about 650 kilometers from the Russian-Ukrainian border, so a deplorable situation in the region can in no way leave Formula 1 indifferent.
It seems, therefore, that after the thoughts about changing the seat of the UEFA Champions League final, which is to be held in St. Petersburg, it is not excluded that the issue of replacing the Russian Grand Prix with another match, perhaps that of Istanbul.
For the record, on January 13, Dimitry Mazepin was received in the Kremlin by Vladimir Putin. The two men had a working meeting, during which they discussed in detail Uralchem's business plan and whether Russia can help the company solve significant problems it faces with the extraction and transportation of potassium.