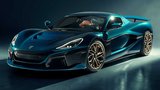 As the car advances and changes rapidly and the future lies in the new era of electric propulsion, the cars we knew until today will change dramatically. The design, the proportions, the traditional bodies, all will gradually give way to newer innovative shapes, to bodies that often look like a mixture of the old traditional categories.
Of course, we may still be far from the flying cars that some saw for the not-so-distant future, but in the era of electric mobility that we see rising in the coming years, manufacturers are now surpassing the established in both technology and design. . After all, engineers and designers, because of the philosophy of electric models, have the freedom to do much more.
But what are the most futuristic four-wheelers that already exist on the roads today? The first thing that immediately comes to mind (if we exclude the original models that are by nature made to show us the future) is the Hyundai Ioniq 5. Its electric model Hyundai like the sisters THAT EV6 and GenesisGV60 are based on the Korean E-GMP electric platform and offer 800 volt technology, the most advanced today for electric vehicles.
The retro-modern design is of course the element that makes it stand out and look more like a spaceship than a car. The THAT EV6 instead, it follows a more conventional form at the front, while the "space" design gives its rest at the back.
Another car that immediately comes to mind is the new and also electric Lucid Air. With the 900 volt technology it goes one step further, but it also goes beyond the limits with its unconventional design both externally and internally.
Models that also left their mark and were considered very futuristic when they were presented were the electrical proposals of BMW, the i3 and i8 with the former looking far ahead of its time especially when we talk about a city car. New Mercedes electric flagship, EQS is another example of innovative design and technology.
Finally, we must not forget a set of high performance electric models like the Lotus Evijathe Pininfarina Battista and of course the Rimac Fridge of the Croatian company Mate Rimac.