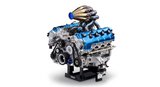 As it turns out, Toyota has taken seriously the possibility of creating a hydrogen-powered internal combustion engine.
After the first attempt made last year with the three-cylinder 1.5 liter turbo of GR Yaris and a redesigned Corolla, Toyota executives commissioned Yamaha Motors engineers to develop the atmospheric V8 in the Lexus RC F so that it could use hydrogen as fuel.
In the photos published by the Japanese company, we see how the intake manifold has been adjusted at the top of the engine (we remind you that it is "eight in one". Information about the engine changes is little at the moment, but Yamaha Motors announced that the spray nozzles and the cylinder head have (as expected) been properly adjusted.
According to the company, the engine has reached maximum power 450 PS/6.800 rpm and maximum torque 540 Nm/3.600 rpm. By comparison, in the (petrol) Lexus RC F "Track Edition" its maximum power is 464 PS/7.100 rpm and maximum torque of 520 Nm / 4,800-5,600 rpm, after reducing its power for the 2021 model.
Mr. Takeshi Yamada, an engineer in the Vehicle Development Department of the Yamaha Motors Center for Technical Research and Development, said: "Hydrogen engines have an inherently friendly feel, which makes them easy to use even without the need for electronic auxiliary systems.
Everyone who drove the prototype was a bit skeptical at first, but when they got out of the car they had a huge smile on their faces! "As I observed this, I began to believe that there are huge possibilities in the technical characteristics that are unique to hydrogen engines, instead of treating the issue simply as a substitute for gasoline."