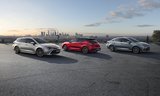 THE Toyota is working on the renewal of one of its most important models which is also the most commercially successful hybrid hatchback on the European market. The reason of course for Toyota Corolla, which will undergo a facelift and this is expected to be presented in the Japanese market at the end of this year. The changes that will make Toyota in its most popular model they will have little to do with the design part and will focus more on equipment and engineering issues.
The first information about the upcoming facelift that takes place in the middle of her life cycle Toyota Corolla come naturally from faraway Japan. The upcoming facelift will of course not concern the new member of the family Corollaτη new Toyota Corolla Cross expected to be released later this year, but the models Hatchback, Since and Touring.
The changes to the exterior design will be minor, as the design is still fresh. The design of the front and rear lights will change slightly and there will be a new light signature. New body colors and new designs for the alloy wheels will complete the look.
The technology and equipment of the new Corolla
The instrument panel will be updated in design and we may see a fully digital set. New instruments will be available depending on the version.
The package of security systems ToyotaSafetySense which includes many driver assistance systems will also be upgraded to incorporate new technologies. To all this we must add the new infotainment system with new connectivity features.
In the mechanical part, the hybrid engines (HEV) will retain the leading role, however, among the conventional engines there will be changes as the removal of the 1.8-liter four-cylinder engine is expected to take the place of the 1.5-cylinder three-cylinder engine. liters.
Its launch newCorolla is scheduled for the fourth quarter of 2022 and in Europe is expected to reach the beginning of 2023.