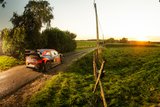 When this year's WRC season calendar was unveiled, the gap on August 18-21 made an impression.
This gap was filled by the Belgian Ypres Rally, which for the third consecutive year is finding its way to the world championship.
"Belgium brought something very different to last year's WRC Championship due to the difficult special stages and the fast pace of the formation, which meant that there was little time for anyone to stop for a breath"said Jona Siebel, CEO of WRC Promoter.
It was first held in 1965, and is considered one of the most demanding rallies in Europe. It has become known internationally in recent years as a WRC crew preparation match. Eleo coronavirus received the anointing of the international fight in 2020.
Marginally managed to override the Czech proposal for a Zlin-based rally this year.