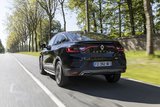 As it became known, Renault's net profit for 2021 was close to one billion euros, an amount that exceeded the forecasts of market analysts and the people of the company.
After two years in which its financial indicators were negative, last year the Renault Group had a share of net profits EUR 888 million, when the forecasts spoke of 818,700,000 euros.
According to the analysis of the data, the reversal in the economic climate is due to the new business plan "Renaulution" announced a year ago, the organizational restructuring that it provides and the creation and presentation on the market of its models which are classified in the most profitable categories. vehicles.
Mr. Luca de Meo, CEO of the French company and inspirer of the project, said: "The Renault Group has far exceeded the economic goals it had set for 2021, despite the problem with the lack of semiconductors and the increase in raw material prices. "The success came from the strategy of putting value above sales volume and from financial discipline."
The operating margin of the Group was formed at 3.6%, a percentage which is also higher than the 2.8% originally projected. By comparison, for 2020 the corresponding index was -0.8%. For this year, the forecast is to reach the operating margin at 4.0% and at least one billion euros free cash flow.