The Japanese manufacturer intends to invest $500 million: the funds will be sent to the company's assembly plant in Canton, Mississippi.
Sales of Nissan and Infiniti vehicles in the US have been declining over the past few years. During the "covid" 2020, Nissan dealers sold 819,715 units here (33.3% less than a year earlier), and Infiniti – 79,502 units (32.5% less). For Nissan, the situation has changed in 2021: customers in the United States bought 919,086 cars (+12.1%), while Infiniti's result indicates a continued decline – 58,553 units were sold. (-26.4%).
The Japanese manufacturer intends to continue developing its own business in the US. The company announced plans to invest $500 million to refurbish its assembly plant in Canton, Mississippi, as well as to improve the skills of its employees. When the work is completed, the company will start producing electric vehicles.
According to Nissan, this American plant will subsequently launch the production of two completely new all-electric cars: they will be put on the assembly line in 2025. One of them will be produced under the Nissan brand, the second – Infiniti. So far, there is practically no information about upcoming updates. However, the manufacturer shared a couple of video teasers – one for the novelty.
Judging by these frames, both new items will be in the passenger segment, judging by the outlines of the body, the models will be sedans. It's an interesting choice, given that many buyers in the US prefer SUVs and crossovers, and the best-selling model for many years has been the Ford F-150 full-size pickup.
If you pay attention to how the teasers present the future electric novelties of Nissan and Infiniti, it becomes obvious that the manufacturer has worked hard on their aerodynamic efficiency when developing models. Caring for this indicator has reached a new level as part of the development of "green" machines by engineers of many companies.
So far, the Japanese company has not disclosed the names of future models of the Nissan and Infiniti brands. Also, the manufacturer keeps secret information about the electric power plants of new products, about the capacity of traction batteries and about the power reserve without recharging. This information will be disclosed later.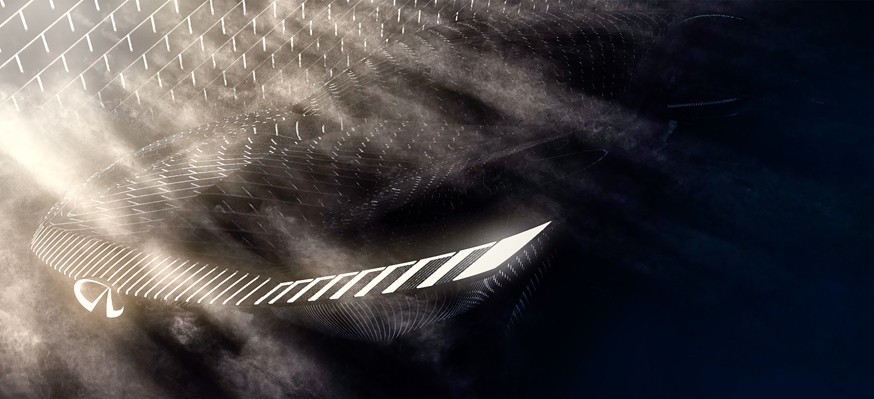 The announced investment in the Canton plant is part of a larger investment of more than $13.5 billion in US manufacturing operations, the company said. Recall that according to the current development strategy, the company intends to launch 15 electric vehicles worldwide by 2030; by the same date, "green" models should account for up to 40% of the company's total sales in the United States.
Renault-Nissan-Mitsubishi is developing five electric vehicle platforms: CMF-AEV, KEI-EV, LCV-EV, CMF-EV and CMF-BEV. They are intended for all brands included in the Franco-Japanese alliance. By mid-2028, the manufacturer is going to start producing solid-state batteries.