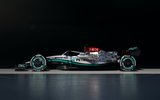 Mercedes opened the curtain this year with the presentation of the W13, its first car under the new regulations, at the Silverstone track.
The reason he chooses this location is because a little later, the team will be on their way to shakedown through the 100 km filming day.
The unveiling of this year's German car was attended by Toto Wolff (team principal), and Lewis Hamilton-George Russell, with the 7-time champion stating that "I never said I would leave[ssfromFormula1″showingthatrumorsofhisdepartureaftertheAbuDhabifinalwerenon-existent[σσαπότηFormula1»δείχνονταςπωςοιφήμεςπερίαποχώρησήςτουμετάτοντελικότουΆμπουΝτάμπιήτανανυπόστατες
The drivers of the Mercedes academy, which was recently strengthened with new members, were also present at the relevant event, who were able to talk about their goals, but also to ask questions to the team drivers.
In the car, the W13 returns to the silver color, as it had become known since last year, after two seasons with the black livery. It has a rear similar to that of McLaren, where it narrows significantly before opening significantly around the exhaust for engine cooling.
Her first walk is getting ready for 15:30 Greece.