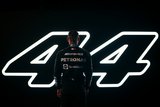 With the end of the episodic final at Yas Marina last December, many have mentioned the possible departure of Lewis Hamilton from Formula 1.
In the context of its presentation Mercedes W13the 7-time champion explained that this was never the case, although he went through a difficult period:
"I never said I would leave.
"I love what I do. It is a great privilege for me to work with this huge group of people, where you feel like a member of a family that works hard for a common goal. There is no other feeling like this.
"But it was also a difficult time for me. I needed to take a step back, to live it now.
"I had my family near me, living beautiful moments with her.
"In the end I decided I would be back ready to attack again this season, working with Toto and George.
"It's exciting that George has come to the team. I can already feel his energy inside her. It will be an exciting season. "