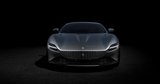 All three cars are some of the most powerful coupes on the market right now, and a Carwow drag strip duel was almost a given.
Starting with the Bentley Continental GT, it has a 6-liter engine, W12, which delivers 650 horsepower and 900 Nm of torque, with the drive it is transmitted to all 4 wheels, while it is the heaviest of the three, as it weighs 2,273 kg.
Moving on to the Aston Martin DBS Superleggera, the British coupe has a 5.2-liter twin-turbo V12 engine that delivers 705 horsepower and the same torque as the Continental GT. It is, however, lighter by almost 400 kg.
Finally, the Italian company, Ferrari Roma, is powered by a 3.8-liter V8 engine with 612 horsepower and 760 Nm of torque.
The results in the following video: