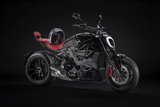 The XDiavel Nera stands out from its most distinctive accessory: the special saddle made by Poltrona Frau with its exclusive Pelle Frau leather – natural soft leather that is sewn by hand by the experienced craftsmen of this leading Italian furniture maker.
The customer will be able to order his Nera by choosing between five different colors: Siam Red, Steel Blue, Cemento, India and Selva, all decorated with X engraving (from XDiavel) through a process using a special laser.
The new XDiavel Nera is characterized by the black "Black on Black" color with alternations of glossy and matte shades and is accompanied (optionally) by a matching light Arai SZ-R Vas helmet.
And to break the dark black theme a bit, Ducati cleverly incorporated some red details, such as the brake calipers and bonnet caps, as well as a pair of lightweight forged wheels different from the other two versions of the XDiavel, S and Dark.
Only 500 XDiavel Nera will be made and each will be accompanied by an exclusive keychain made of the same Pelle Frau leather as its saddle, in the same color of course.
For the rest, under the look there are no differences from the other XDiavel versions, ie we have the well-known liquid-cooled two-cylinder V 90 degree Testastretta with variable valve timing system DVT and 1262 cc, with 160 hp at 9,500 rpm and 13.0 kgm at 5,000 rpm .
The ordering feature is already enabled for the XDiavel Nera, with the first deliveries scheduled for March 2022.
Web page Ducati XDiavel Black