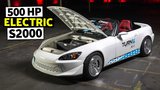 The Honda S2000 has acquired a legendary status in the car culture, as in the 10 years it was in production, but in later years, it was and remains an extremely beloved car.
Much of the pleasure that this model offered to its driver came from its engine, which revs up to 9000 rpm, and its characteristic sound.
This was removed from the equation by Rywire Motorsport Electronics, which wanted to exchange Honda's 2-liter thermal engine with a Tesla electric motor.
In addition, he wanted to visually give the look of an electric model of the present in the S2000.
A key parameter for achieving this change was to make the necessary changes to the front of the car, with the front bumper resembling that of the Volkswagen ID, while new wheels were installed.
In terms of electric motor, the S2000 EV has a Tesla engine that produces 500 hp, while it has two Chevy Volt batteries with a capacity of 38 kWh.
The goal is for the car to be used daily by Ryan, the man who took care of his changes and to whom Rywire belongs.
You can learn more in the following video: