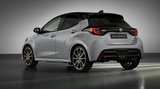 The countdown to the release of the new video game Grand Touring 7 is coming to an end. The new version of the longest title racing in its history PlayStation expected on March 4 and on this occasion the Sony Interactive Spanish and domestic Toyota decided to join forces to celebrate the event.
The result of this collaboration was the launch of a collector's edition Toyota GR Yaris SPORT GT7 to be released in 100 units. The truth is that in the collector hot hatch we do not encounter shocking differences compared to the regular version.
Essentially the only modifications concern the appearance, with its addition GT signal in various places but also the placement in the cabin of a frame that carries it unit number.
From there each new owner will take along with the car…
A collectible keychain (!)
A PlayStation 5 console
A copy of Gran Turismo 7
A DualSense wireless gamepad
A free 3-month PlayStation Plus subscription
The cooperation of the two companies will have many commercial "branches" with Toyota and PlayStation to… sponsor each other in a row games-events. The collector's edition Toyota GR Yaris SPORT will be available to order on March 4 (along with the release of the game), while the first deliveries are scheduled for him May. Its price is expected to be announced along with its launch.
Get a taste of the upcoming Gran Turismo 7…