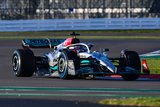 Yesterday (18/2), Mercedes was at the Silverstone track to do the shakedown of its new car, the W13.
Both Lewis Hamilton and George Russell were behind the wheel, with the latter driving in difficult conditions, with plenty of wind and rain.
The 7kg champion was lucky enough to go out on the track in the sunlight, offering us the first onboards from the new generation cars.
Enjoy!