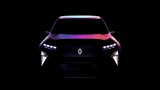 THE Renault is fully focused on e-mobility as stated by all its executives led by Luca De Meo. Models like the new electric car Megane E-Tech coming in 2022 and the revival of the long-awaited Renault 5 expected in the coming years are the main exponents of the new electric age for the French company.
The French brand, however, does not seem to dwell only on purely electric models and as a new teaser photo shows us, the people of the French brand are designing an original model that runs on hydrogen. The concept is designed under his instructions Gilles VidalDesign Director of Renault and is part of the company's recently announced goal of 100% electrical switchover Renault by 2030.
The design of the French concept is well hidden behind the shadows of the low light of the image. The illuminated neo-retro brand of the company and the small and narrow ones stand out on the front LED daytime running lights with four elements in each. Extremely impressive are the triangular low lights, but also the dynamic and wide hood with the strong lines and the inflated wings.
THE Renault is particularly sparing in revealing technical details about the model and suffices to state that it is "an unprecedented original model". This unique concept embodies the Group's commitments for sustainable development and is an example for the brand, in the service of sustainable, safe and inclusive mobility, typically states the Renault.
The new original model of the French will be presented in May 2022.