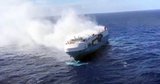 The ship, which caught fire in the Atlantic Ocean on Wednesday and was carrying about 4,000 vehicles, is still on fire.
Firefighters are already on their way to the ship, but it is said that it may be extremely difficult to put out the fire due to the electric vehicles that are between the trapped and burning vehicles.
The FelicityAce is the cargo ship that is still burning in the Atlantic Ocean, while it has thousands of new vehicles from the GroupVolkswagen. The ship was en route from Europe to the United States with a cargo of new vehicles when it caught fire Wednesday near the Azores. All 22 crew members were rescued and the ship was left in the burning ocean.
Fire crews and rescue teams are on board to deal with the fire, which could be more difficult to control with electric cars with batteries on board. There is no official confirmation yet that there were electric vehicles on board, but it is possible that these were part of the cargo. Both Porsche as well as the VW import certain vehicles from Europe to the USA, with the VW to enter only the GTI, GolfR and ID.4 from Europe. THE Porsche in the US imports electricity Taycan from the factory to Zuffenhausen in Germany.
According to what the Bloombergwhich managed to access her internal email Volkswagen in the US, reported that the ship was carrying 3,965 vehicles. About 100 of the vehicles are its models VW destined for the USA
Her representative PorscheLuke Vandezande, told Bloomberg that the automaker estimates it had about 1,100 vehicles on the Felicity Ace and that 189 Bentleys have also been confirmed as part of the cargo list.
Skytek software company released a brief report today claiming that the estimated market value of the Felicity Ace is $ 24.5 million, while the total value of the 3,965 vehicles could exceed $ 500 million.