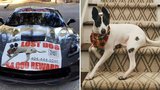 A family in Georgia of the USA she is desperately looking for her dog, her Marleyfrom the past September. With the research being led to deadlock decided to take drastic measures and cause "noise" by announcing that they would donate the car them to the one who will bring them back the pet!
This is an impressive one Corvette Z51, construction of 2016, the value of which corresponds to approximately $ 50,000! This model has one V8 engine with a capacity of 6.2 liters, combined with 7-speed manual transmission and sends their power 450 PS on the rear wheels.
In fact, the couple, Derek and Alex Kirchner, in addition to the car are willing to offer extra and $ 4,000 as a reward to the one who will get them out of this difficult psychological condition in which they have fallen.
H Marley is a four-year-old half-bred and was picked up shortly after birth from the facility animal-friendly. When Derek and Alex were away from home for a few days the dog disappeared and they have been searching ever since. desperately to bring her back.
At the same time they made a page in Facebook in order to gather all the information that named it "Bring Marley Home- Lost Dog»And numbers more than 2,700 members.
«If someone shows up today and gives me back Marley I will give him the Corvette with such great pleasure that I can not even describe it", Said Derek.
See the relevant report from Fox News …