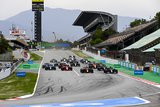 From 2013, Formula 1 teams are required to pay a sum of money to the FIA ​​for their participation in next season's championship.
For 2022, this amount is set at $ 577,278 for each team, and an additional $ 6,926 for each point the champion team received, or $ 5,770 / point for each other team.
In accordance with MotorsportMercedes is required to pay $ 4.8 million, an amount that rises significantly due to the high harvest of points by itself, which reached 613.5.
Detailed amounts:
| Club | Degrees | Amount based on points | Total amount |
| --- | --- | --- | --- |
| Mercedes | 613,5 | $4.249.101 | $4.826.379 |
| Red Bull | 585,5 | $3.378.335 | $3.955.613 |
| Ferrari | 323,5 | $1.866.595 | $2.443.873 |
| McLaren | 275 | $1,586,750 | $2.164,028 |
| Alpine | 155 | $894,350 | $1,471,628 |
| AlphaTauri | 142 | $819,340 | $1,396,618 |
| Aston Martin | 77 | $444,290 | $1,021,568 |
| Williams | 23 | $132,710 | $709,988 |
| Alfa Romeo | 13 | $75,010 | $652,288 |
| Haas | 0 | 0 | $577,270 |