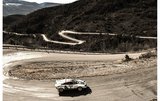 The 24th Monte Carlo Historic Rally completed on February 2 and the CEO of Stellantis GroupK. Carlos Tavares, was one of the drivers who managed to complete this marathon that included almost 300 kilometers of special routes. In this special event, Mr. Tavares found behind the wheel of the legendary Lancia Stratos HF of 1975, a car with which the great participated in the World Rally Championship Sandro Munari.
The passion of Mr. Tavares for the games is known and has its roots in 1980, when and CEO of Stellantis began participating in various forms of motorsport, having completed more than 500 races to date. To challenge the background Montecarlo of this year chose a landmark car for Lanciabut also the games in general.
THE Lancia remains to this day the brand with the most success in rally racing, having won among others 15 world titles, drivers and manufacturers. A top performance that contributed to the brand's reputation and worldwide popularity.
THE Lancia Stratos is one of the best examples of the brand's passion for racing. Designed especially for rallies, it was built in just 500 units, with the racing Stratos HF to win the competition by country and win the World Title in 1974, 1975 and 1976, but also two European titles, before leaving the Games, being virtually invincible. The Stratos became extremely popular not only through its success but also through its futuristic design. She went down in history with her colors Alitaliajust like the car that Mr. Tavares.
The warm welcome reserved for the public once again at Lancia Stratos confirmed the timeless feeling that the model evokes to date. As Mr. Tavares characteristically stated: "It is not just a landmark, but a real monument, which remains alive in the hearts of all the friends of the games. The audience applauded us and asked us to press the accelerator just to hear the gorgeous sound of the engine. "Driving such a car in the snow is definitely a way to make people happy."