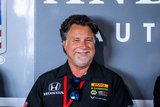 The news was brought to the fore by Michael Andretti's father and 1978 champion Mario, writing on Twitter:
Michael has applied to the FIA to field a new F1 team starting in 2024. His entry, Andretti Global, has the resources and checks every box. He is awaiting the FIA's determination.

– Mario Andretti (@MarioAndretti) February 18, 2022
"Michael has applied to the FIA ​​for a new team in Formula 1 starting in 2024. His new team, called Andretti Global, has the infrastructure and the information. It awaits the FIA ​​decision. "
In 2021, Andretti wanted to acquire Sauber Motorsport and join Alfa Romeo F1 in the sport, but the deal did not go through as the owner of the Swiss company "backed down" and did not want to sell it.
Now, the former driver and now owner of Andretti Autosport wants to do something from scratch, the 11th team in Formula 1.
To enter the sport, he will have to pay the amount of 200 million dollars set by the new Omonia Agreement, but it seems that this has already been settled by the Americans.
In accordance with indystar.comthe new team has already agreed with an engine supplier, without specifying who.
The current regulations stipulate that each new team in the sport will be supplied with engines by the team that has the fewest teams in its clientele, and in this case it is Renault / Alpine.
It is unknown at this time what he will do after leaving the post. It is safe to say that the capital not used in the acquisition of Sauber will be channeled to Andretti Global.