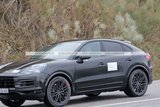 Although we have seen the renewed ones Porsche Cayenne and Cayenne Coupe and in other spy photos, this time it's her turn Cayenne Coupe to be equipped with the new rear lights that the production model will bring.
At the back of it Cayenne Coupe there are not many other elements that will change as we can see. The lower part of the bumper will have small changes, but so far.
At the same time, the interior will have some changes, which mainly concern the fully digital instrument panel and the new gear selector.
The debut of the renewed Porsche Cayenne Coupe is expected in 2022.