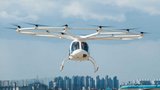 As announced, Volocopter, the company that develops VoloCity, its electric air taxi, will have some of these flying machines ready in 2024, following the investment made in it by companies such as Daimler and Geely.
In particular, according to Christian Bauer, Commercial Director of Volocopter GmbH, the German company announced that it intends to use 10-20 flying taxis in Singapore to transport tourists to popular places such as Marina Bay Sands and Sentosa Island.
As Mr Bauer said, the company has secured funding of EUR 322 million by investors including Daimler and Geely and intends to expand its business in Malaysia and Indonesia.
VoloCity is currently in the process of obtaining a certificate of navigation from the Singaporean authorities and has begun to do the same with the European Union Aviation Safety Agency (EASA) to obtain approval for use of its electric flying vehicles (sic) in countries of the Old Continent.