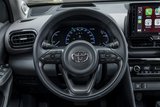 Toyota continues to be true to its inclusion new technology in its vehicles which are based on passenger safety. It has not been long since he introduced us an advanced form of autonomous driving that gives "racing skills" even to an inexperienced driver.
One of latest actions in this direction was communicated through patent filed on USA and which is revealed by carbuzz.com. In it one becomes detailed analysis of the problems created by the classic steering wheels which most vehicles carry today, while at the same time a new one is introduced innovative design.
But let's see more analytically. The document submitted states that in traditional lane conservation systems the steering wheel vibrates to alert the driver and then the vehicle attempts automatically to correct his course.
In some cases this vibration accompanied by a beep. According to Toyota this way of notifying is enough dangerous after momentarily distracting the driver, who turns his gaze on the road to see what has gone wrong.
The solution he proposes is one inflatable steering wheel which will automatically be able to increases or decreases its diameter and will be combined with one system which corrects the course of the vehicle, like what exists today.
What the Toyota is how through steering wheel inflation increases the driver's grip and so can handle the car better in a state of emergency.
Additionally the patent states that when the steering wheel inflates will be an indication for the driver to correct course of the car to the left, while when it deflates it will indicate to move to opposite side.
The truth is that to date there have been no reports of shortcomings or problems to the existing lane retention system found in most cars. But even a small improvement that will result in one higher level of security, is always welcome.
Source: carbuzz.com