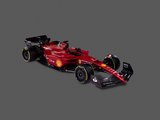 The most successful team in the history of Formula 1 has spent two years without a win and 14 years without a championship.
This is what Ferrari wants to change with F1-75, entering the new era of the sport as best it can.
The task of returning Maranello's team to the top will have to be completed by Charles Leclerc and Carlos Sainz, in the second consecutive season in which they will work together.
The new F1-75 is quite bold in black, on the front and rear wing and in the halo, while it has an interesting design on the sidepods, both on the sides and on the top, which seems to be concave – an element that in first year is similar to that of 2011 McLaren.