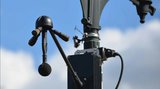 THE technology proves to be a very important helper in the law enforcement effort. They have been on the streets for years radar cameras which record the vehicles that drive with speeding and then the call goes "package" to the driver, who is asked to put the hand in the pocket and pay for his energy.
The next stage of this technology is the cameras they have built-in microphone and record him sound of the exhaust from passing vehicles. This system has been installed for a few months now streets of New York and has started operating on pilot stage on behalf of Environmental Protection Service.
When the cameras "capture" a vehicle that causes noise pollution, the driver is notified by competent office and is asked to proceed with all actions so that to correct the sound of the exhaust. If he does not then he will receive a call $ 875.
If even this fine does not manage to restrain him, then they are imposed new sanctions until he goes to the garage and finally gets off Akrapovic's favorite, placing it in its place factory system.
THE Environmental Protection Service stressed that the new measure has nothing to do with the "war" that a few months ago the New York Governor Kathy Hochul to those who cause noise pollution.
The Governor last September signed one new layout which increased the relevant fines from 150 στα $ 1,000. As pointed out the measure with the cameras will be re-examined June and then it will be decided if and how it will continue to operate.
However, from what we have seen recent years, the scenario that wants the noise pollution cameras to pass into the "hands" of the traffic and the … rain from callsgathers many chances.
After all, one corresponding provision signed at the beginning of the year in France and provides for pilot mode of these cameras for the next two years. In conclusion it turns out that it is a matter of time to see them in our parts as well. Whether in the end work properly or whether they will have the same fate as speed camerasis another story…