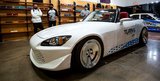 One of the first cars that comes to mind when one hears the words "Japanese sports carIs without a doubt his Honda S2000. The owner of such a vehicle decided to transform the iconic model into electric, uprooting its "heart", the four-cylinder engine, replacing it with two electric motors from Chevrolet Volt Hybrid.
The project of the transformation was undertaken by the American house of improvement Rywire Motorsports Electronics and the result was the new EV performing 500 PS and be able to move between charges for 160-190 km.
A lot of work was done on her part as well appearance since its owner did not want it S2000 to remind anyone else out there. So a new one was placed in the front bumper, whose design is reminiscent of VW IDwhile at the same time one was selected new set of wheels with aerodynamic design.
See details about the transformation in the Hoonigan video video…