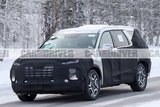 We spotted the refreshed Hyundai Palisade testing and have some of the first spy photos showing its large and luxurious 7-seater SUV Hyundai. The Palisade as it is known is a model that is not imported in Europe by Hyundai and mainly concerns the USA and the rest of the world markets.
The amount of camouflage makes it difficult to see all the changes, but from what we know, the renewed Palisade will get a bigger grille and LED lights that will be integrated in the grille, in its standards Hyundai Tucson. We will continue to have the pattern of split lights on the front.
It is considered likely that we will see the latest system infotainment in the updated Palisade and of course the latest security systems package.