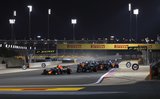 Parallel with presentation of F1-75, The FIA ​​has released a video showing Mohammed Ben Sulayem making important announcements about the future of the management of Formula 1 racing.
The biggest news that emerges is that Michael Masi was fired by F1's dictator, with Eduardo Frietas and Niels Wittich taking turns in this crucial role, starting with the Barcelona test. The Australian will be offered a new position within the organization.
The new race directors will be assisted by a VAR system, where a team of racers will be able to auxiliary examine the events on the track, from the Federation offices in Geneva, with jurisdiction to change the decisions of the racers and the captain.
In addition, the public broadcast of the conversations between the groups and the leader will be stopped, while in the background such direct conversations will be allowed, but only in very specific cases.
It is important to note that these proposals became known to the teams last Monday, and were fully accepted, as Ben Sulayem pointed out.