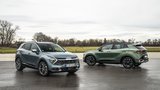 The owners That ranked the brand at the top of the overall vehicle reliability survey J.D.Power Vehicle 2022 (VDS) in the United States, reporting fewer problems than the other 31 brands surveyed. This is the second consecutive year that the That claims the first place among the mass manufacturers, while it is the first time in the history of research that a non-premium brand is ranked first overall.
Her customers That It was ranked first of all brands, both mass and premium, with a score of 145 in the "problems per 100 vehicles" (PP100), far exceeding the industry average by a large margin of 47 points.
THE That is one of its three brands Hyundai Motor Group, which achieved excellent PP100 ratings everywhere. In last year's survey, the That took third place overall, among mass and premium manufacturers, while this year jumped two places to rank first.
For the VDS2022the J.D. Power addressed to 29,487 customers of 32 brands in the USA. Only verified buyers and renters of new cars and light trucks of 2019 that have been registered for personal use were examined. This year's survey introduced new, stricter criteria that resulted in reported problem levels increasing by 59% compared to 2021, while PP100 averages rose from 121 to 192.