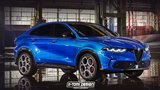 Her revelation Alfa Romeo Tonale on February 8th brought to light the impressively designed new model, with the presentation along with the style and technology focusing on the top driving feeling that it will offer. In addition to technical solutions that include data from Giulia and Stelviosuch as the innovative IBS braking system and electronically controlled suspension, h Tonale -Like both of the above models- will be equipped with Pirelli tires which have been specially designed for her. The P Zero 235 / 40R20 96V XL with the code "AR" that appeared during the presentation, were designed to enhance the sporty character of the model on dry and wet roads.
Her collaboration so far Pirelli with the Alfa Romeo has been particularly successful in evolving the new tire for Tonale The engineers of the two Italian companies worked closely together in each phase of the development of the new model. Extensive simulations and then exhaustive tests at its test center Alfa Romeo in the Baloccoensured that the new tire would perfectly match its character Tonale. The new tire is expected to equip the hybrid versions with 130 and 150 hp, the diesel version with 130 hp, but also the top Plug-in Hybrid Q4, with 275 hp.
Her collaboration Alfa Romeo with the Pirelli has its roots in the beginning of the last century, from the first years of car and motor sports. In 1925 Alfa Romeo GP Type P2 equipped with its tires Pirelli won the first World Car Championship in history with drivers such as Antonio Ascari, Giuseppe Campari and Gastone Brilli Peri. The relationship between the two Italian companies remains close, both in production models and racing thanks to the presence of Alfa Romeo in the Formula 1 World Championship.