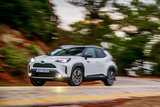 The Greek car market closed with a big drop of 28.9% for January compared to the corresponding month last year. More specifically, in our country 5,521 registrations of new passenger cars were recorded for the first month of the year.
The crisis with the lack of semiconductors has hit the global car industry significantly and the reductions in production, as well as the forced closure of factories have created a huge waiting time in many cases for a new model and are the main reasons for falling sales in many markets.
In terms of companies, the first place for this January belongs to Toyota with 994 sales, the second ended up in Hyundai with 544 rankings and the third in Opel with 537.
In fourth place was the Peugeot with 328 sales, followed by Dacia with 319 and the first ten are completed by VW (282 sales), Citroen (271 sales), Jeep (268 sales), Nissan (237 sales) and Audi (233 sales).
Regarding the first models in sales, the best seller of 2021 Toyota Yaris continues to be at the top and enjoys the preference of Greek drivers. In January, the counter for the Japanese little one wrote 320 rankings, while behind him in second place was Opel Corsa with 269 units and the same stable new Toyota Yaris Cross with 208 sales.
It is noteworthy that in the top ten of sales we find 4 models Toyota and specifically the Yaris, Yaris Cross, Corolla and C-HR. Of the premium brands the first place for last month was her case Audi with 233 sales, with second on BMW with 215 units and third on Mercedes-Benz with 119.
In detail Top 10 sales in our country:
1 Toyota Yaris: 320
2. Opel Corsa: 269
3. Toyota Yaris Cross: 208
4.Toyota Corolla: 205
5. Dacia Duster: 197
6. Jeep Renegade: 183
7. Citroen C3: 177
8. Toyota C-HR: 166
9.Audi Q3: 163
10. Opel Crossland: 159