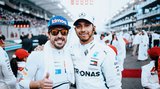 There has been a lot of talk in the last few days since the release of his biography Lewis Hamilton signed by the British reporter for the Sunday Times and Sun, Frank Worral.
Through its pages, the book entitled "Lewis Hamilton: The definitive biography of the most successful Formula 1 driver of all time", as expected, the praise of its pilot Mercedes, however at the same time the author has chosen to put him in the "focus" Fernando Alonso presenting revealing moments from the coexistence of the two drivers in McLaren in 2007.
Obviously through this narration the Spaniard appears as the "bad guy" of the case and that is one of the reasons for negative comments that the specific one has posted effort.
At some point in the biography Worral writes: «My 9 year old son said to me: "Alonso is like Pierre Nodoyuna from Los Autos Locos, right dad?" Yes, he has exactly the same desire as the character from the animation to win at any cost. Unlike the latter, who could well hide this desire to some extent, Alonso showed that he could not do it. He could not see that he was being treated more favorably».
Below o Worrall refers to a source from her team McLaren who had revealed to him at the time that "Alonso's statement that as a team we prefer Hamilton because he is British has caused a great deal of controversy in the media. That's funny. We are a whole team and we belong to McLaren. Ron (Dennis) would not allow that to happen. Anyway, Hamilton was the one who was chosen to drive the slowest car as a rookie. Lewis is unique, he can and does adapt much better than more experienced drivers and unlike the rest he has been touched by a magic wand. Alonso was always angry. He caused countless bad situations in order to get closer to the title».
Elsewhere o author states: «Hamilton is more popular in Spain than Alonso as much as that bothers the Spaniard. In 2007 Alonso deceived himself. He tried to destabilize Hamilton and put up with his confidence. Lewis did not receive any special treatment. The audience found it difficult to admire him. He had lost the psychological battle. He was the least immature, not to say rude, for someone who has won two World Cups».
Of course Worrall does not fail to mention its overall effect Hamilton in the sport. «He made a sport that was static, to be fashionable. He managed to turn an almost marginal sport into a mass spectacle. He became an unexpected savior of Formula 1 and the British Grand Prix. Lewis is the epitome of "cool" and at the same time he owes a lot to those who work in the Formula 1 industry.».