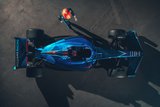 From 1995 until 2021, all Williams cars bore the 'S' logo in honor of Ayrton Senna, who died inside a Williams in 1994 in Imola.
This tradition stops this year withFW44as confirmed by the team's CEO, Jost Capito, explaining the rationale behind this change:
"The decision was made because we want to move forward in the future. A new era is opening before us, we have a new car, while we have also reconstructed the museum that now has a special exhibition for Ayrton.
"I think we had to look ahead and not show the drivers the 'S' when they get in the car and remember what happened. "It's time for the team to step up and honor Senna with the space dedicated to him in our museum."
He stressed, however, that Williams Racing will continue to financially support the Ayrton Senna Foundation, which helps children from poor families to study and have the necessities to live in the homeland of the great driver, Brazil.