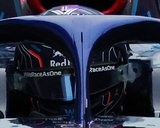 From December 2021 until yesterday, many tried to bridge the gap between the two groups, playing the role of "peacemaker".
It seems, however, that what even the FIA ​​people did not succeed, a pilot will achieve!
The reason for Alexander Albon, who this season will drive on behalf of Williams, which uses Mercedes engines.
So, on the Thai racing uniform, there is the "star", while on his helmet there is the Red Bull logo, as is the case with (almost) all the pilots who have "graduated" from the academy of the Austrian team!
Albon, then, will have the logos of both Red Bull and Mercedes on him, something probably not so common, at least for the last decade in Formula 1!