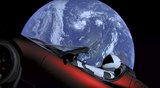 It was February 6, 2018 When the Elon Musk got a red Tesla Roadsterput it inside the rocket Falcon Heavy of Space X and launched it into space. One was placed in the driver's seat doll dressed in an astronaut uniform, the "Starman", While the message" entered on the main screenDon't Panic"And the sound system was programmed to play repeatedly"Space Oddity»Του David Bowie.
If the battery is still in operation it is estimated that the Starman will have heard the song about 400,000 timeswhich are too many even if he is his most hardcore fan Bowie.
When these lines were written the Tesla was at a distance 380.000.000 km from the Earth's surface and traveled to Mars at speed 28.430 km/h. At the same time the distance that separated it from the planet was 200.000.000 km while his distance from the Sun was 140.000.000 km.
No one can know which one condition the vehicle is located today. However according to statements by the astronomer Jonathan McDowell from the Smithsonian Center for Astrophysics is quite likely to still be whole or have accepted some minor damage from conflicts with others celestial bodies found in its course.
According to another academic research the chances of Tesla falling back into surface of the Earth the next 15,000,000 years are 22%. What is certain is that until then Cybertruck will be presented …
At the same time it is mentioned that at the point it has reached it is particularly difficult his observation from simple technology telescopes. The exact numbers of his course Tesla Roadster you can watch them through the site whereisroadster.com which draws data from NASA.
Watch the video with the course of the Tesla Roadster in space …