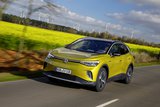 The VW Group holds the sales reins in the Old Continent, although it almost wanted to lose its position to Stellantis.
The Germans recorded 3,158,559 sales in 2021, one of the 3,081,590 sales of the large Stellantis group, according to statistics company Dataforce.
What should be emphasized is that these statistics include only the 27 member states of the European Union, as well as the United Kingdom, Switzerland, Norway and Iceland.
Respectively, the situation between the two giants was marginal in 2020, with VW recording 3,265,865 sales, compared to 3,058,064 of Stellantis.
Returning to 2021, the third group in sales was that of Renault-Nissan-Mitsubishi, with 1,788,266 units, followed by Hyundai-Kia with 1,020,686 sales.