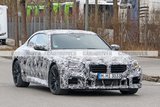 We have at our disposal some new photos from the brand new BMW M2 who was arrested for testing and this time we have the pleasure to see less camouflage in her body M2which reveals more about its appearance.
The design of the front grille is now obvious and does not follow its huge appearance M4but remains in the lowest profiles we've seen on new Series 2 coupe. Instead, we expect to see the headlight shape change slightly compared to the "normal" BMW 2 Series.
The wider body and larger wheels must be taken for granted and will give the new M2 an impressive presence.
Power is expected to be 400 hp in the "normal" M2with less power for the model Competition. The drive will be transmitted exclusively to the rear wheels and the new M2 will be equipped with manual and automatic transmissions.
Her debut new M2 It will take place at some point this year, but it has not yet been clarified when exactly we will see its new creation BMW M.