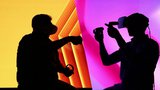 As with movies, video games and landscape mapping, in recent decades the automotive industry has incorporated more technological advances into 3D modeling to implement its projects.
Nowadays, in order for a model to reach the production line, it must first acquire 3D existence. This mission is assigned to the designers, whose quiver of digital tools is constantly growing. One such tool is 3D drawing, a technology that allows designers to draw without using a pencil or drawing board. Welcome to the future!
A man with virtual reality glasses and a controller in each hand, stands in the middle of a room gesturing loudly. It seems to draw invisible lines in the air. A strange scene that evokes the world of virtual reality games. And yet, Udo – that's his name – is not playing a game … but he is a designer! And he works very hard. His latest gadget? A 3D drawing program, a design method already adopted by the department design of Renault Group.
What does the 3D drawing include?
3D drawing is a form of intuitive technology that allows "painting in the air" all around you.
But what is air painting? Pablo Picasso had been experimenting with this technique since 1949. The famous Spanish artist replaced the pencil with a lighter to create his own works with "dancing light". These original designs were immortalized by the photographer Gjon Mili and the technique became known as light painting (or light design). It was an art form that, even then, made ideas come to life in the air.
Today, 3D design follows almost the same idea, but without the lighter and the camera. The technique requires the use of a VR (Virtual Reality) device. This invention, which dates back 50 years, has become widespread for about ten years, as it was used to develop video games. With the headset (glasses and headphones) firmly mounted and connected, the designer is immersed in a completely virtual, 360 ° design studio. Using two controls (one in each hand), it can select colors from a palette, draw lines, create shapes, fill surfaces and more. A computer program records every movement and converts the data into a model.
Digital creative freedom that is almost unlimited
By the end of the 1990s, the designers' work had already undergone a first mutation, with the spread of the design on digital tablets. Today, 3D drawing goes a step further, as designers no longer need a tablet, pencil, mouse or even desktop computer to work. Design is entering a new era: an age where digital tools are at the heart of car design.
"Renault Group has been using digital tools for quite some time. Today, a new era for designers has already begun "
As technology constantly improves, digitization gives designers ten times as much freedom and makes their work even more accessible. It has never been easier to quickly create a three-dimensional design, a perspective, model shapes – even on a 1: 1 scale – or fill in volumes. "It saves time," says Udo. "It takes at least four weeks to run a scan or data file on a machine, and here everything is done in real time. That gives it a huge advantage. " In short, 3D design makes it much easier to experiment with new ideas, as they come to life very easily.
But what are the disadvantages? Eye strain, headaches and back and joint pain experienced by some designers after prolonged use. "The 360 ​​° plan means you have to be in good shape and take breaks every hour," says Udo.
Engineers are already thinking of ways to make the experience more enjoyable and less restrictive. This includes a lighter headset for starters. For example, augmented reality glasses are being developed so that designers can design using virtual reality, while seeing what is happening around them and interacting with their colleagues.
Next level collaboration
The 3D design adds another useful tool to the modern designer quiver: colleagues can now work together at the same time, on the same project, regardless of the distance between them.
"As long as the internet exists, geographical constraints are a thing of the past," says Udo. Two designers can communicate with each other via the 3D tool using the VR headset and a microphone. Then, they can talk, share information about what each one did on their own, but also collaborate on joint projects. All this without having to leave their home, offices, or anywhere in the world.
"Thanks to VR technology that acts as a gateway to a 3D world, we can express ourselves more accurately"
At the same time, with the use of this technology, the workflow has been optimized. Models are made using the 3D drawing before being exported to a digital file. The files are then used by everyone who is part of a vehicle design and production line. For example, designers can hand over a digital copy of their work to a modeler who makes a physical model of the design or to an engineer who will evaluate the applicability of the theory in practice.
The new pencil of the augmented reality designer
For quite some time now, digital design has been giving those who work in design the power to implement more repetitions of their idea, to work faster and to move their work down without wasting time. In addition to reducing costs and construction time, this new technology also facilitates easy revision of designs, at no cost.
In particular, designers can now draw specific details of their design more accurately, experiment with different types of surfaces, work with mirroring tools to turn a 2D shape into a three-dimensional object, achieve a better finish in sketches and patterns, present projects in real time and bring their designs to life thanks to 3D printers.
Modern designers are thus evolving into designers of augmented reality.
"We will always need natural models of designs, as customers want to buy a real product, something they can touch and feel."
According to Udo, "Traditional methods still play a role." Digital and physical techniques go hand in hand. Each plays a role in the process of developing and building a car. Modelers continue to use clay to make models, an ideal material necessary for the success of a design in the final stages of the design process. Accordingly, 3D design does not replace the talent of the designer, who is still the cornerstone of the whole process.