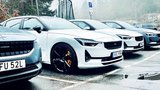 Named "No Compromises", his commercial Polestar 2 30 seconds was shown during the first round of the grand final of the American Football Championship. The key word was "No", although the ad was not as innocent as one might think.
During the commercial the phrases «No Dieselgate», «No Dirty Secrets», «No Conquering Mars» were without a doubt the most interesting.
The first two of course refer to Volkswagen and in the scandal dieselgate which cost the company billions of euros in damages, after it was finally forced to admit that it used illegal emission falsification software on a number of its models. Volkswagenτης Audi and her Porsche. The scandal is largely a thing of the past for the German company, but it continues to be a dark spot in its recent history.
The report of the Swedish company in Tesla was more vague, but behind the phrase "No Conquering Mars" hides its founder Tesla and her SpaceX, Elon Muskwho has spoken openly about his goal of reaching the red planet.
See her ad Polestar in the video below: